Overcoming-Love Ministries, Inc. (OCLM) is a 501(c)(3), faith-based organization which has served the communities of Brooklyn and Queens for over 30 years. We are an inter-denominational, multicultural, bilingual congregation whose organizational mission is to provide services, programs, and support that will meet the mental, emotional, physical, and spiritual needs of anyone in need of or desiring assistance. Our organization believes that a holistic approach to man's needs creates a more stable human being and thus the ability to function at a higher level.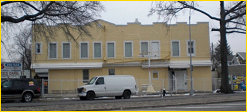 Founded in 1984, OCLM has an extensive background in the rehabilitation of ex-offenders and substance abusers and working with the homeless population. As a ministry, we take an active role in the restoration on these individuals while easing their transition back into the community as productive members of society.
Our extensions include the Van Siclen Family Residence (VSFR) and the Pulaski Family Residence (PFR), both transitional housing facilities serving homeless families with children, the Liberty Café soup kitchen, as well as Research Center For Allergies and Asthma Clinic. To view our future projects and/or assist us with monetary or supply donations, please visit our Future Projects page.
To view a slideshow of our history in pictures, presented at OCLM's 25th Anniversary celebration,
click below:

Overcoming-Love Ministries Church
78-14 Rockaway Boulevard
Woodhaven, NY 11421
(718) 296-6310
"Change Your Life -- Start Here"
For more information, please contact Rev. Leopoldo A. Karl, Executive Director, at (718) 235-1464.